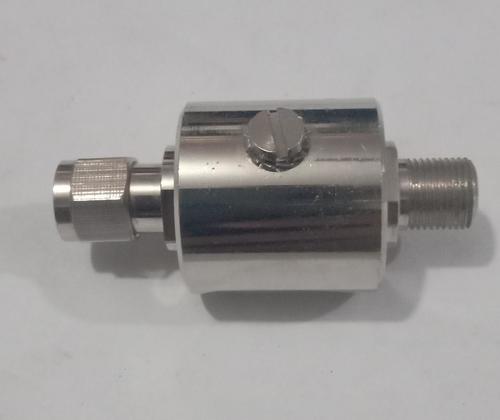 Surge Arrestor
Product Description
Surge Arrestor
It is often required for industrial purposes to confine the surge created due to various standing beams. We are offering an extensively useful range of Surge Arrestor which is specifically designed in compliance with the industrial standards. For manufacturing these arrestors major designing procedures are stringently followed to ensure the procurement of flawless articles. With below given details Surge Arrestor can be availed.
Surge Arrestor -- Technical Specifications
Frequency Range: ---824-970MHz & 1710-2300MHz
Unit Impedance: 50
VSWR: 1.2
Connector Type: N-Female/N-Female
RF Power: 500W
Withstanding Lightning-strike Current: 50kA/Max.
Dummy load- HT 3gc-1,2,10,20,50,100,200,500W
Frequency range: DC-3 GHz
Max. VSWR: 1.2:1
Input impedance: 50 Ohm,,,
Connector type: N or SMA
Dimension: 75mm,,,
Weight: 0.40Kg,,
Material: Aluminum,,,
Temperature range: - +65
Attenuators HT 3gc-1,2,10,20,50,100,200W-3/6/10/20/30
Frequency range: DC-3 GHz
Max. VSWR: 1.2:1 Attenuation: 3/6/10/20/ 30dB
Input impedance: 50 Ohm,,,Connector type: N or SMA Dimension: 90mm,,Weight: 0.40Kg,,Material: Aluminum,,Temperature range: -40°C - +65°C
Duplexer Filter 900 Band:
Rx Passband: 880 - 915 MHz min. Tx Passband: 925 - 960 MHz min
Passband Loss: 1.25dB max. Passband Loss: 1.25dB max.
Passband VSWR: 1.5:1 Passband VSWR: 1.5:1
>80dB 925 to 960 MHz >80dB 880 - 915 MHz
Connectors: Type "N" Female