RG M58 Nale To TNC Male Right AnCablegle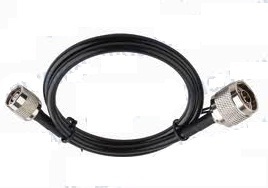 RG M58 Nale To TNC Male Right AnCablegle
Product Description
RG58 N Male To TNC Male Right Angle Cable
RP-TNC to N Male Jumper Cable about 15 IN (7.5m)

Connector Type: RP MALE to N Male | Connector Material: Nickel and Brass

Connect from SMA Equipment to N-Type Antennas ,Used for 3G/4G/LTE/Ham/ADS-B/GPS/RF Radio to Antenna or Surge Arrester Use(Suitable for outdoor antenna or remote antenna connection to indoor amplifier.)

Never worry about any security problems. We are confident in the quality of our Cable and willing to. If you unfortunately get a defective one, please contact our customer support.
Trade Information
Contact us for information regarding our sample policy

CARTON BOXES / CUSTOMIZED PACKAGING
Australia Central America North America South America Eastern Europe Western Europe Middle East Africa Asia

All India
Synergy Telecom Pvt Ltd is a leading provider and manufacturer of Telecom Equipment, Antennae, Cable assemblies, Microwave Components, IBS and BTS installation materials, Solar passive components and solutions. We maintain a large inventory of fast moving material like Cable, Cable Assemblies, Connectors, Passive RF components and Installation Material. We are approved vendors with BEL, ITI, DRDO, RAILWAYS, ISRO, Private Telecom Operators, BSNL. We believe in creating value for our customers by continuous improvement of products, service quality and customer satisfaction. Synergy offering include RF Cables: LMR 100/200/400/240/300/400; RG6/11/58/59/142/174/178/179/188/213/214/217/223/316/400, 1.13 mm etc. as also High Frequency Cables Suco 141/0.86/RG402/ 405/ SS402/ 405/ LL120/ 142/335 etc. RF Connectors: N, DIN, BNC, SMA, TNC, MCX, MMCX, SMB, SMC, SSMA, SMZ, 1.6/5.6, 1.0/2.3, FME, UHF, RCA as also High Frequency Connectors 2.4mm/2.92mm/1.95mm/3.5mm/N/ SMA/ DIN/ APC7 etc. RF Adaptors: N/L9/SMA/SMB/BNC/TNC/SMZ/MCX/DIN in various combinations of Male and Female including High Frequency adaptors 2.4/2.92/3.5mm etc. RF Cable Assemblies & Jumpers: All kind of cable assemblies and jumpers including Precision High frequency Cable assemblies with customized combination of cable type, length and connectors with a fast turnaround time for custom cable assemblies. RF Antennae: GSM Magnetic Antenna, USB Modem Antenna, Mobile Phone antenna and adapter, Patch Panel Antenna, Rubber Antenna, GPS antenna, Wi-Fi antenna Microwave Products: Attenuators, Splitters, Combiners, Couplers, Power Dividers, Matching Transformers, High power dummy loads, DC Blocks, Multi way couplers, LPF, BPF, Duplexers, Lightning Arrestors, all infrastructure items for IBS and BTS Waveguide Products: Straight, Bend, Twist, flexible, elliptical waveguides and waveguide parts like Tee, Transitions, Loads, Couplers, Isolators, Joints, Shorts etc. Telecom Equipment: Complete range of telecom access equipment that include Wireless Home Gateways, Portable Hot Spot, M2M modules and solutions, Indoor and Outdoor Routers based on GSM, WCDMA and LTE Technologies. Electronic Instruments: High end test equipment like LOW PIM Testers, Communication Test Sets for 2G/3G/4G. Tools: Complete range of tools, tool kits, and electronic instruments like Multi-meters etc. from reputed Taiwan Company. Solar: Solar connectors(MC4, MC4 branch, diode connectors, fuse connectors, tools including crimping tools including hydraulic, wrench, cutting tools), DC and AC solar UV protected cables and cable assemblies. Optical: All optical fibers, connectors and their patch chords, pigtails, attenuators, FDMS.